Phlebotomy Technician Certificate
About the Career
Calm and professional, phlebotomy technicians collect blood samples when donors give or patients need medical tests. Medical professionals use blood tests to diagnose illness, evaluate medications' effectiveness and determine whether a patient is low in nutrients.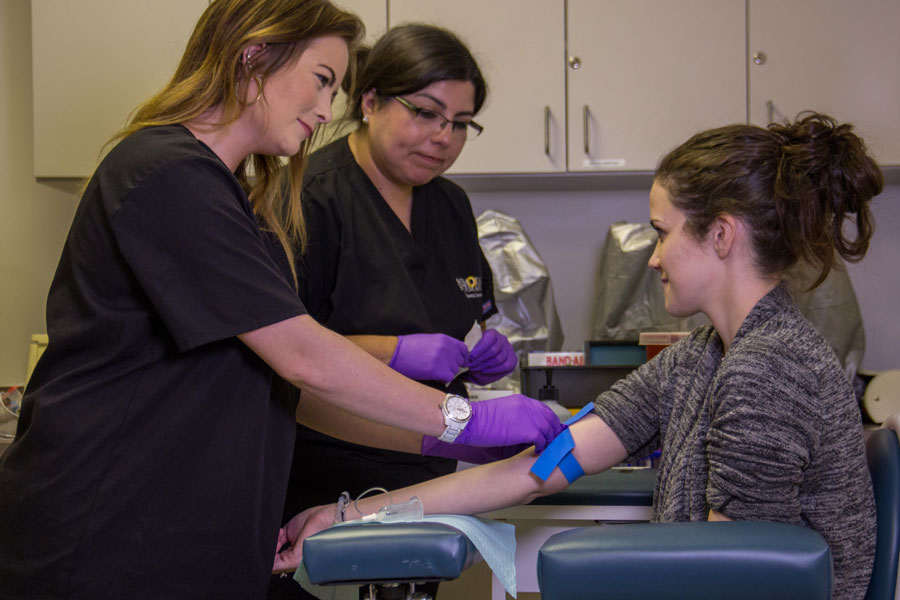 Qualities for Success
Compassionate, detail-oriented students with good hand-eye coordination do well in this program.
Career Outlook
Employment opportunities are found in the many facilities in the area, with a mean hourly wage of approximately $14.74.
About the Program
The Phlebotomy Technician Program includes a combination of classroom instruction, labs and clinical training to prepare students to flourish in the field. Students train in small classes with instructors with years of practical experience.
Certification
The program prepares students to sit for the Phlebotomy Technician Exam (PBT) administered by the American Society for Clinical Pathology (ASCP). Students will also complete the Healthcare Provider CPR certification.
How to Begin
A high school diploma or GED is required. Clinical sites require participants to have updated immunizations, background checks, drug screens and verified IDs.
An application is required prior to registration:
Financial aid is available for students who qualify.
Phlebotomy Technician
| Course # | Title | Hrs |
| --- | --- | --- |
| PLAB 1023 | Phlebotomy Technician | 72 |
---
Notice to Students Regarding Licensing
Effective September 1, 2017, HB 1508 amends the Texas Occupations Code Section 53 that requires education providers to notify potential or enrolled students that a criminal history may make them ineligible for an occupational license upon program completion. NOTE: Criminal history checks are required for clinical experience purposes.
Should you wish to request a review of the impact of criminal history on your potential licensure prior to or during your quest for a degree, you can visit this link and request a "Criminal History Evaluation": https://records.txdps.state.tx.us/DpsWebsite/CriminalHistory/
This information is being provided to all persons who apply or enroll in the program, with notice of the requirements as described above, regardless of whether or not the person has been convicted of a criminal offense. Additionally, HB 1508 authorizes licensing agencies to require reimbursements when a student fails to receive the required notice.