Natural Science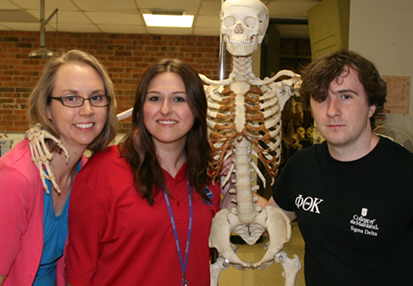 Associate of Science – Emphasis in Natural Science
About the Program
Explore the building blocks of the universe with College of the Mainland's Associate of Science in Natural Science. Designed to give students the foundational skills they need to transfer to a university, the degree allows students to select a concentration of courses in biology, geology or chemistry or a combination of sciences.
Career Opportunities
Associate degree graduates can find employment as lab technicians, but they will have most options in developing the skills they gain at COM at a university and earning a bachelor's degree.
Financial Aid
The Associate of Science in natural science prepares students for success at a fraction of the cost of private institutions.
Students may apply for COM scholarships, and eligible students may also receive federal financial aid and grants. Call 409-933-8274 to see if you qualify for financial aid. For scholarships, call 409-933-8508 or visit www.com.edu/scholarships.
How to Begin
Apply to COM at www.com.edu/apply. Submit necessary documentation including high school or college transcripts, proof of Texas residency and meningitis vaccination records if you are under 22.
If you are a first-time college student, attend a New Student Orientation before registering. Transfer students meet with an advisor before registering.
Register for classes at www.com.edu/register.
Suggested Study Plan
Semester 1
Course
Title
SCH
PSYC 1300
or EDUC 1300
Psychology for Success
3
ENGL 1301
Composition I
3
MATH 1316
Plane Trigonometry
3
American History
Select from Core Curriculum
3
Life and Physical Sciences
Select from Core Curriculum
4
Semester 2
| Course | Title | SCH |
| --- | --- | --- |
| ENGL 1302 | Composition II | 3 |
| American History | Select from Core Curriculum | 3 |
| Life and Physical Sciences | Select from Core Curriculum | 4 |
| MATH 2312 | Precalculus Math | 3 |
Semester 3
| Course | Title | SCH |
| --- | --- | --- |
| PHED 1164 | Introduction to Physical Fitness and Wellness | 1 |
| Social/Behavioral Sciences | Select from Core Curriculum | 3 |
| GOVT 2305 | Federal Government | 3 |
| Life and Physical Sciences | Select from Core Curriculum | 4 |
| Life and Physical Sciences | Select from Core Curriculum | 4 |
Semester 4
Course
Title
SCH
Language, Philosophy and Culture
Select from Core Curriculum
3
GOVT 2306
Texas Government
3
Life and Physical Sciences
Select from Core Curriculum
4
Creative Arts
Select from Core Curriculum
3
SPCH 1315
or 1318
Interpersonal Communication
3
Degree Total: 60
---
"That's what's amazing at this school is they have really amazing faculty who can change your life."