Gulf Coast Safety Institute
Gulf Coast Safety Institute
The Gulf Coast Safety Institute was established in 2007 to provide safety and health training and education to workers and employers. Additionally, the Gulf Coast Safety Institute is an OSHA Challenge Program Administrator mentoring over 50 companies in improving their Safety and Health Management System to potentially achieve OSHA's Voluntary Protection Program STAR status.
The Gulf Coast Safety Institute currently operates four Centers of Excellence:
---
Upcoming Classes & Events
Fall Protection Forum: Is Your Fall Protection Program Ready?
As fall protection continues to be a challenge for many organizations, the Gulf Coast Safety Institute and LJB Inc. are sponsoring this forum to facilitate sharing best practices, debating ideas and brainstorming new solutions, while benchmarking your program against others.

For this session, we will discuss industry best practices for each core element of a fall protection program. Participants will leave the session with a better understanding of industry best practices, as well as how other organizations handle various aspects of a fall protection program. The group will discuss the spectrum of possibilities—from basic compliance to a model program—and how to improve your existing program.

Please plan to join Gulf Coast Safety Institute and LJB Inc. on Tuesday, February 9, 2016, from 10 a.m. – 1 p.m. to learn more about protecting your workers and your organizations from fall risk.

Registration and lunch are complementary for all registered participants. Registration is limited and will close on Friday, February 5.
Click here to respond, or to learn more and to register.
---
OSHA 30-hr Construction Training in English
Taught by Gulf Coast Safety Institute
Cost: $295.00*
2/23/2016 - 2/26/2016
8 a.m. to 5 p.m.
This course meets the OSHA 30-hour outreach requirement. Students who successfully pass the course will receive a completion certificate on-site and an OSHA 30-hour card. This training is targeted to construction industry workers with some safety responsibility. The course will emphasize hazard identification, avoidance, control and prevention. Topics will include an introduction to OSHA; managing safety and health; OSHA construction focus four (electrocution, falls, caught in or between, struck by); personal protective and lifesaving equipment; excavations; cranes; derricks; hoists and elevators; material handling; health hazards in construction; scaffolds and ladders; hand and power tools; concrete and masonry construction; confined space entry; fire prevention and protection; ergonomics; powered industrial vehicles; motor vehicles, mechanized equipment and rollover protection; steel erection; welding and cutting; and powered industrial vehicles. A pocket guide to the 29 CFR 1926 OSHA construction regulations and other class materials will be provided.
To Register:
Download and print Registration Form. Form can be faxed to the College of the Mainland Continuing Education Department at 409-933-8026 or contact Continuing Education directly at 409-933-8586 or 1-888-258-8859, ext. 8586. Course # listed below:
OSHA 30-Hour Course #: 1387 OSHT-1091-132CL
*Cost: $295.00 for those who live in the COM district and $300.00 outside the district.
Student check-in will begin at 7:30 am. Class is limited to 40 people. Walk in registrations will not be accepted. All classes are presented at the Gulf Coast Safety Institute located at 320 Delany Road, La Marque, TX 77568.

For more information contact us at gcsi@com.edu or 409-933-8162.
---
OSHA 10-hr Construction Training in Spanish
Taught by Texas Department of Insurance At No-Cost
3/1/2016 class time is from 8:30 a.m. to 5:10 p.m.
3/2/2016 class time is from 8:30 a.m. to 12:15 p.m.
The OSHA 10-hr Construction Training is a two-day event beginning 3/1/2016 and ending on 3/2/2016. Attendance on both days is required for credit. It is on a first come, first served basis and space is limited.
This training program is designed as a general orientation course to provide construction workers information about their employers' responsibilities, how to file a complaint and how to identify, abate, avoid, and prevent job-related hazards on a construction site. Emphasis is on accident prevention.
All training materials, including the participants' books and handouts, will be provided at the training center. All persons completing the ten hours will receive an OSHA course completion card within 2-6 weeks.
To download the flyer, click HERE.
To Register:
All students must register with Texas Department of Insurance (TDI) prior to the start of class. For more information and to register contact Denise Carmody TDI at 512-804-4610 or safetytraining@tdi.texas.gov.

All classes are presented at the Gulf Coast Safety Institute located at 320 Delany Road, La Marque, TX 77568.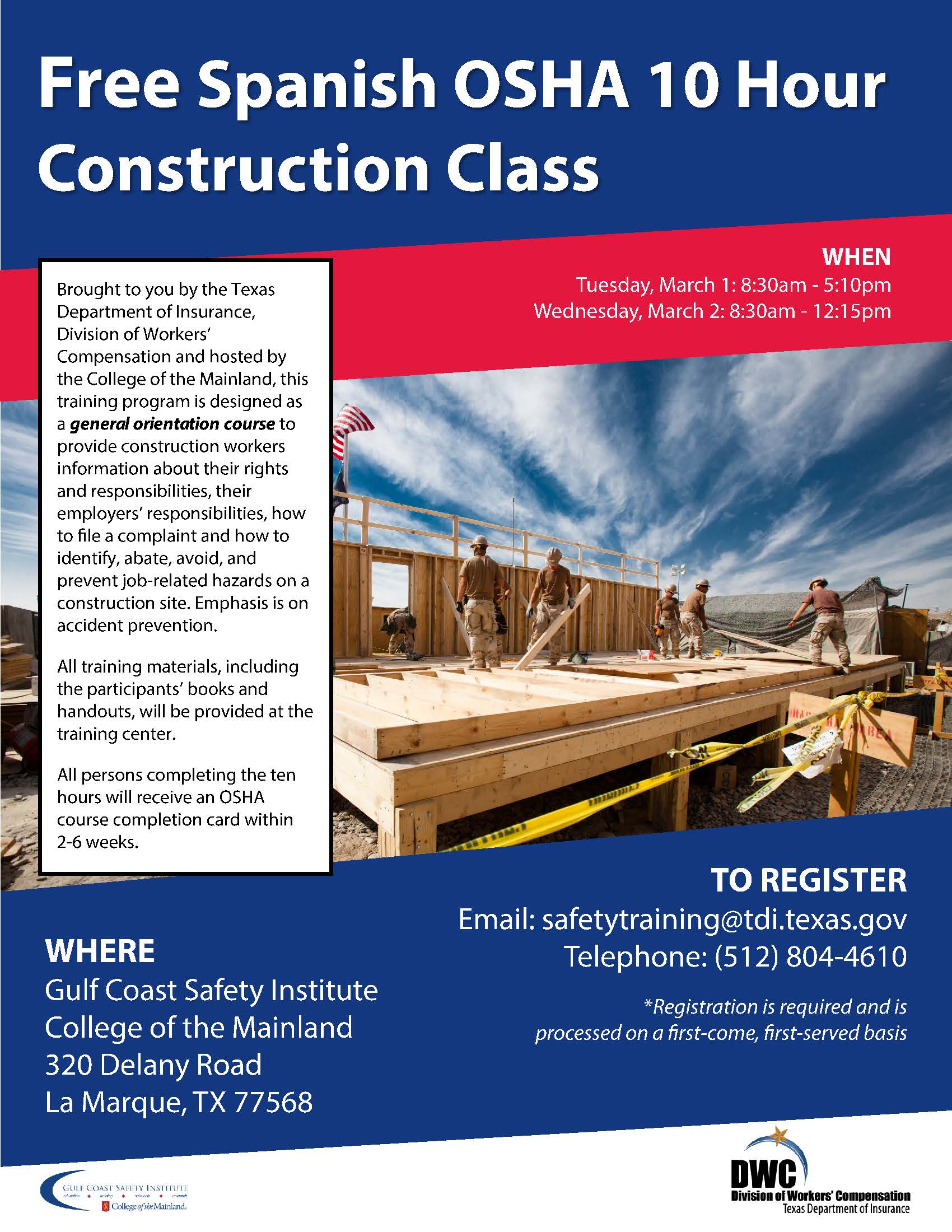 ---