Center for Risk Management
Center for Risk Management
2015 Spring Schedule Available
GCSI Mailing List
Call for Speakers (Click here)
The Center for Risk Management (formerly the Risk Management Institute) at College of the Mainland invites you and your staff to attend health and safety classes held at our facilities with no enrollment fee. We have received generous support from the Texas Mutual Insurance Company to educate workers about occupational safety. These classes provide related materials to keep for future reference. The courses are excellent for organizations to update or include in their own internal training.
Upcoming Safety Classes (At No-Cost)
Gender Culture & Communication
Friday, February 6, 2015, 8 am - 5 pm
Gulf Coast Safety Institute, Room 112
We strive daily in our work and home arena to communicate effectively. Many times cultural and gender issues come into play, and we ignore the obvious. We forget that there are differences in the way we talk to each other. This class illuminates areas that heighten communication across culture and gender. We will cover the difference between 'report' vs. 'rapport' conversations, the best time to talk about cultural hot button issues, whether multi-tasking is only for one gender, and much more. We will take a fresh look at closing the communication gaps across gender and culture. This class is appropriate for any employee – especially those in safety who have to communicate with many people each and every day.
Instructor: Peter Harrell
Peter Harrell, Jr. is President of Harrell Communications. Peter formed his company in 1995 and hails from Austin, Texas. He also has a BA Degree in Theatre Arts, and Organizational Development from St. Edwards University. Peter excelled as an executive management trainer, and was given the responsibility of creating, implementing, and delivering leadership training, for executive managers and supervisors in seven of the largest agencies in the state. After retiring from a 20-year career with the state of Texas, Peter continues a 42 year acting career with roles in 50 national and regional commercials, 25 movies, 20 theatrical productions, and over 40 roles in television.
---
Create & Maintain an Effective Fall Protection Program
Friday, February 20, 2015, 8 am - 5 pm
Gulf Coast Safety Institute, Room 112
Learning how to minimize the risk of potentially dangerous or fatal fall hazards allows an organization to take a proactive approach to worker safety. This workshop provides an overview of effective fall protection programs, giving participants proven strategies for identifying, evaluating and controlling fall hazards. Beginning with background on current fall protection standards, regulations, statistics and trends, the workshop will provide information about all critical elements of a fall protection program. General information about fall protection equipment will also be provided, including equipment components, system development, anchorages, and clearance requirements. All information presented will be in accordance with the ANSI Z359 family of fall protection standards. This class will be taught by Nolan Miller.
Instructor: Nolan Miller
Mr. Miller is a structural engineer and safety consultant with 17 years of experience. With a thorough knowledge of Occupational Safety and Health Administration regulations and international safety standards, he specializes in fall protection consulting and design. He has specific experience providing fall protection solutions in the petrochemical industry, for both upstream and downstream locations. Mr. Miller has a bachelor's degree in civil engineering and holds dual certification as a professional engineer and a certified safety professional. Since 2004, he has been a facilitator for LJB University, teaching LJB's safety courses.
---
To Register:
Contact SeAlice Hemphill at 409-933-8365 or download and print Registration Form. Return by fax, 409-933-8027 or email, riskmanagement@com.edu.
For more information, please contact SeAlice Hemphill at 409-933-8365 or email riskmanagement@com.edu. Registration is limited to 56 people per class. Walk-in's will not be accepted due to the limitation of classroom size. CEU certificates will be awarded to all participants who complete these courses.
To find our location:
From Houston - Take 45 South to the Century/Delany Road Exit (Exit 13). Turn right onto Delany Rd. The Gulf Coast Safety Institute is located on the North side of the road (right side) in a large white metal building with a loading dock. The driveway is located across from the 2nd entrance to the Glenway Plaza Mall. There is a "College of the Mainland" sign on the fence on each side of the driveway.
The doors open at 7:30 a.m. for class check-in. The class will begin promptly at 8:00 a.m. and late arrivals will not be admitted after 8:15 a.m. Please enter the building at the black door located on the dock side of the building.
Cancellation Policy: Please give at least 24 hour notice if you are not able to attend class so we may add other registrations from the student wait list.
If you have any questions before the day of the class, please contact SeAlice Hemphill at (409) 933-8365 or riskmanagement@com.edu. On the day of the class you can get assistance by calling (409) 933-8162.
---
Upcoming Safety Classes
| | | |
| --- | --- | --- |
| Occupational Safety & Health Management Systems | March 6, 2015 | M. Seymour |
| NFPA 70E - 1015 Updates | March 27, 2015 | K. Kirkpatrick |
| National Incident Systems (NIMS) & Incident Command Systems (ICS) | April 10, 2015 | N. Bender |
Download the 2015 Class Schedule (Click Here)
Who can benefit from these classes?
Human resources personnel
Safety trainers/personnel
Physical plant directors
Health personnel
Office personnel
All workers
Comments from evaluations:
"This was a much-needed course for safety professionals!"
"I wish more of my co-workers would take this course!"
"Well organized! Speaker was very knowledgeable of subject at hand!"
"These classes are a great resource for my business!"
"We will not miss a single offering!"
"Great hospitality! I'll be back!"
"Great course materials, and the refreshments were a nice addition. Thank you!"
Safety Resources Website
Launch a feature-rich safety resources website provided by Texas Mutual Insurance Co.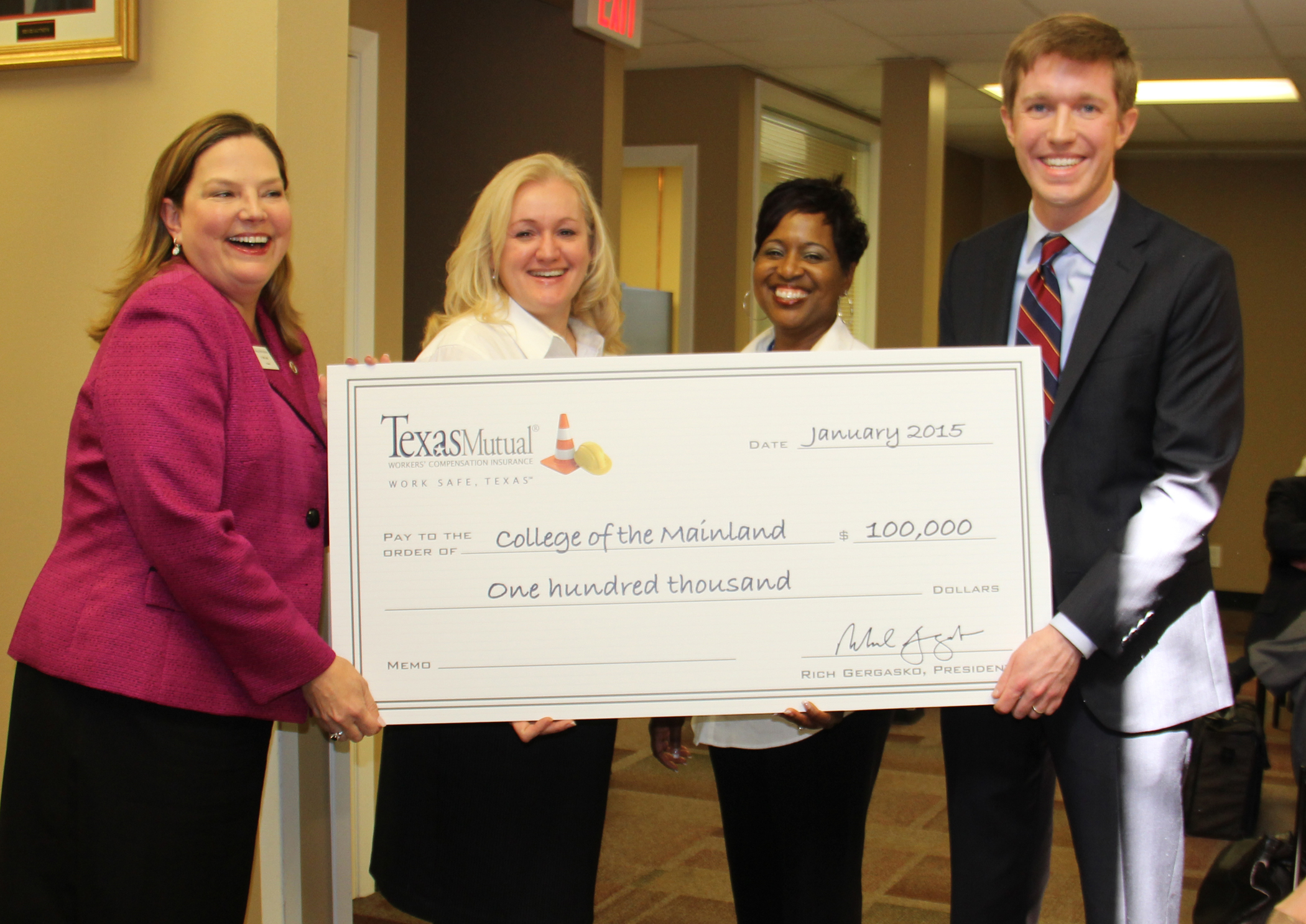 The Center for Risk Management at College of the Mainland receives a generous grant from



Texas Mutual Insurance Company
For more information about the Center for Risk Management at College of the Mainland, contact SeAlice Hemphill at 409-933-8365 or email riskmanagement@com.edu.
Center for Risk Management Call for Speakers
The Center for Risk Management at the Gulf Coast Safety Institute is pleased to announce this "Call for Speakers" for future classes. The Center for Risk Management is supported by a generous grant from the Texas Mutual Insurance Company. The purpose of the Center for Risk Management is to provide free training in topics related to Occupational Safety and Health.
The call is open to safety and health professionals and those who have subject matter expertise in one or more topics related to occupational safety and health, such as OSHA regulations, safety management and best practices in the safety and health field. We are looking for instructors who can use a variety of instructional methods to engage the class - workshops, activities, and discussions should be included in the days training. To be considered, please complete the attached Call for Speakers Application and return it to SeAlice Hemphill, Program Assistant at riskmanagement@com.edu or fax it to (409) 933-8027.
The classes are held at the Gulf Coast Safety Institute located at 320 Delany Rd., LaMarque, TX 77568, in a classroom setting from 8:00 a.m. - 5:00 p.m. on select Friday's throughout the College semester. Class sizes range from 25-55 students with varying backgrounds and experience in safety and health.
Speakers who are selected to present will be compensated for their presentation time. Speakers are required to complete a background check through the College of the Mainland at lease one (1) month prior to the date of their presentations. Speakers will be responsible for creating all content and materials for the class and the materials for each class will be required to be submitted for review and reproduction three (3) weeks before the presentation date.
If you have any questions, please contact SeAlice Hemphill at (409) 933-8365.