LVN-RN Transition Track
ADN Program – LVN-RN Transition Track
The LVN-RN Transition Track is designed for the licensed vocational nurse (LVN) applicant who wants to transition to the registered nurse (RN) role.
Graduates of the ADN Program are eligible to apply for licensure by examination as registered nurses.
Effective Aug. 15, 2016, all nursing and pre-nursing students meet with an advisor in the Student Success Center.
Getting Started
Pre-Nursing Orientation Deadline – Must be complete by March 14
Application Deadline – March 15
Application Update
Summer 2017 applications have been reviewed. Applicants may now check the status of their applications in WebAdvisor under the Nursing Application link.
Instructional Letters have been e-mailed to COM e-mails with further deadline dates for those admitted and top alternates that have accepted their positions offered.
Plan of Study
Prerequisite Courses 1
Course
SCH
ENGL 1301
Composition I
3
BIOL 2401
Human Anatomy and Physiology Part I
4
BIOL 2402
Human Anatomy and Physiology Part II
4
BIOL 2420
Microbiology
4
PSYC 2301
Introduction to Psychology
3
PSYC 2314
Lifespan Development
3
Semester 1
Course
SCH
RNSG 1327
Transition from Vocational to Professional Nursing
3
RNSG 1162
Transition Clinical
1
RNSG 1215
Health Assessment
2
RNSG 2213
Mental Health Nursing
2
RNSG 2261
Mental Health Nursing Clinical
2
Semester 2
Course
SCH
RNSG 1251
Care of Childbearing Family
2
RNSG 2260
Care of Childbearing Family Clinical
2
RNSG 2101
Care of Children and Families
1
RNSG 1262
Care of Children and Families Clinical
2
Language, Philosophy and Culture Course/Creative Arts**
3
**See Core Curriculum in the current catalog for approved courses.
Semester 3
Course
SCH
RNSG 1443
Complex Concepts of Adult Health
4
RNSG 2262
Complex Concepts of Adult Health Clinical
2
RNSG 2230
Professional Nursing Review/Licensure Preparation
2
RNSG 2263
Capstone Clinical
2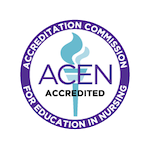 3343 Peachtree Road NE, Suite 850
Atlanta, Georgia 30326
Phone: 409-975-5000
Fax: 409-975-5020
Email: info@acenursing.org
Web: www.acenursing.org