Department Chair
Dr. Hammer joined the COM Nursing Department in September 2014. Her area of expertise is in nursing systems. She comes with educational experience in nursing at the vocational, associate, baccalaureate and master's levels.
A true Longhorn, Dr. Hammer began and ended her own educational journey at The University of Texas at Austin. She has been a registered nurse for more than 30 years and views nursing as a profession with vast opportunities and great rewards.
Dr. Hammer is married, has two children and two grandchildren. She cherishes her faith, family and friends. She is grateful and excited to be a part of COM Nursing.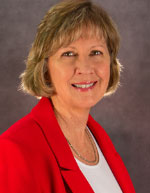 Jere Hammer, PhD, RN