ADN Pre-licensure Track
ADN Program – Pre-licensure Track
The Pre-licensure Track is designed for the applicant without a current LVN license. Graduates of the ADN program are eligible to apply for registered nurse (RN) licensure by examination.
Effective Aug. 15, 2016, all nursing and pre-nursing students meet with an advisor in the Student Success Center
Getting Started
Application Deadlines
Fall admission - May 15
Spring admission - Aug. 15
Application Update
Spring 2017 applicants may check the status of their applications in WebAdvisor.
A letter with important deadlines has been sent to all Spring 2017 RN students/alternates via the COM email as of Sept. 8, 2016.
Plan of Study
Prerequisite Courses
Course
SCH
ENGL 1301
Composition I
3
PSYC 2301
Introduction to Psychology
3
BIOL 2401
Human Anatomy and Physiology Part I
4
BIOL 2402
Human Anatomy and Physiology Part II
4
BIOL 2420
Microbiology
4
Semester 1
Course
SCH
PSYC 2314
Lifespan Development
3
RNSG 1215
Health Assessment
2
RNSG 1205
Nursing Skills I
2
RNSG 1209
Introduction to Nursing
2
RNSG 1260
Introduction to Nursing Clinical
2
Semester 2
Course
SCH
RNSG 1441
Common Concepts of Adult Health
4
RNSG 1361
Common Concepts of Adult Health Clinical
3
RNSG 2213
Mental Health Nursing
2
RNSG 2261
Mental Health Nursing Clinical
2
Semester 3
Course
SCH
RNSG 1251
Care of Childbearing Family*
2
RNSG 2260
Care of Childbearing Family Clinical*
2
RNSG 2101
Care of Children and Families*
1
RNSG 1262
Care of Children and Families Clinical*
2
Language, Philosophy and Culture Course/Creative Arts**
3
**See Core Curriculum in the current catalog for approved courses
Semester 4
Course
SCH
RNSG 1443
Complex Concepts of Adult Health**
3
RNSG 2262
Complex Concepts of Adult Health Clinical**
2
RNSG 2230
Professional Nursing Review/Licensure Preparation
3
RNSG 2263
Capstone Clinical*
2
Total Credit Hours: 60
*Eight-week course
**Twelve-week course
---
"As I did rotations, I fell in love with the nursing field. I had a really great experience."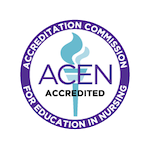 3343 Peachtree Road NE, Suite 850
Atlanta, Georgia 30326
Phone: 409-975-5000
Fax: 409-975-5020
Email: info@acenursing.org
Web: www.acenursing.org