Mechanical Maintenance Technician

Mechanical Maintenance Technician
About the Career
Mechanical maintenance technicians install, dismantle, repair, reassemble and move machinery in refineries, plants, construction sites and hospitals.
Career Outlook
Opportunities for mechanical maintenance technicians, industrial machinery mechanics and millwrights will increase 41 percent by 2022 (The Gulf Coast Workforce Development Board). The average hourly wage is $23.15, with entry-level positions starting below that rate (Workforce Solutions, 2016). Completers of the Mechanical Maintenance Technician Program may find employment in:
Petrochemical Plants and Refineries
Manufacturing and Production Facilities
Energy Exploration Facilities
Construction Sites
Machine and Fabrication Shops
Power Plants
About the COM Program
COM's MMT program trains students to enter into a high-skill, high-growth occupation. It equips students for a wide variety of skills, such as preventative maintenance, making machinery adjustments and repairing equipment using blueprints, hand and power tools. Each course combines classroom instruction and hands-on work with instructors with years of field experience. Classes meet two nights per week to accommodate work schedules. Students completing this program will receive MMT Basic, MMT Intermediate, MMT Advance Occupational Skills Award and an OSHA 10 General Industry Card.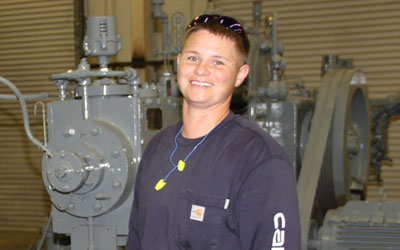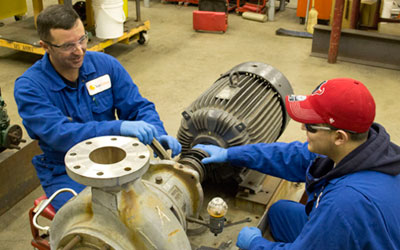 Mechanical Maintenance Technician Courses and Certificates
How to Begin
New students must register in person with COM's Continuing Education Office located in the Technical Vocational Building Suite 1475. Returning students may register in person, by calling 409-933-8586 or online at www.com.edu/register. Textbooks are not included in the tuition. Requirement: Students must be 18 years or older or have a high school diploma or GED.
Financial Aid
Texas Public Education Grants (TPEG) – this is a grant based on need.
Hazlewood Act – this assistance is available to veterans, their spouses and eligible children.
Workforce Solutions Workforce Investment Act – this assistance is based on financial need.
Scholarships
News
Success Stories
Mechanical maintenance student launches career before graduation
---
From a Student
"This is the best job I've ever had. The money and the benefits are awesome."
Mechanical Maintenance Technician – Basic Occupational Skills Award
Number
Course
Hours
Cost
INMT 1005

Introduction to Industrial Maintenance

This course is a study of basic mechanical skills and repair techniques common to most fields in industrial maintenance. Students will identify and operate precision instruments, hand and power tools, and demonstrate general industry safety and receive an OSHA 10 credential.

64
$485 / $490
TECM 1001

Industrial Mathematics

This course is a study of mathematics applicable to industrial occupations. Topics include fraction and decimal manipulation, measurement, percentage, and problem-solving techniques for equations and ratio/proportion applications. It also includes an introduction to algebra, triangles, circles and trigonometry. Prerequisite: INMT-1005

6

$485 / $490

MCHN 1002

Print Reading for Machine Trades and Rigging

This course is a study of blueprints for machining trades with an emphasis on machine drawings. Students will identifying the elements of machine drawings; explaining geometric dimensioning and tolerance (GD&T) symbols and their meanings; identify proper equipment used for safe lifting and rigging; and follow safety guidelines. Prerequisites: TECM-1001 and INMT-1005

65

$485 / $490

WLDG-1021

Metallurgy and Welding Fundamentals

This course is a study of metallurgy and its application related to welding including studies of metal characteristics, testing, effects of alloying and heat treating, and basic properties. Students will apply this knowledge while developing fundamental skills of oxy-fuel and arc welding; and follow safety guidelines.

Prerequisites: INMT-1005, TECM-1001 and MCHN-1002

64

$485 / $490

POFT 1006

Job Search and Employment Skills

This course is a study of the job search process with an emphasis on researching career opportunities, developing a resume and interview skills. Students will demonstrate their knowledge during mock interviews with industry leaders.

Prerequisites: INMT-1005, TECM-1001, MCHN-1002 and WLDG-1021

40
$285/290
Total Hours
296
After completing the Mechanical Maintenance Basic Certificate, students will choose to follow either the Machinist or Mechanical Maintenance Technician training track.
Mechanical Maintenance Technician – Intermediate Occupational Skills Award
Prerequisite: Mechanical Maintenance Technician – Basic Occupational Skills Award
Number
Course
Hours
Cost
MCHN 2005

Millwright III – Bearings, Seals and Couplings

This course is a study of bearings, seals and couplings. Students will be able to identify the different types of bearings, seals and couplings, explain their application, demonstrate correct removal and installation, and follow safety guidelines.

Prerequisite: Basic MMT Occupational Skills Award

64
$485 / $490
MCHN 2007

Millwright IV – Lubrication, Valves & Pumps

This course is a study in the recognition and application of pumps. Students will focus on troubleshooting, repairing and installing pumps and follow safety guidelines.

Prerequisites: Basic MMT Occupational Skills Award, MCHN-2005

64

$485 / $490

MCHN 2012

Millwright V–Gear Boxes, Chain & Belt Drives

This course is a study of the recognition and application of gearboxes. Students will identify and explain chain and belt drive types, troubleshoot and repair gearboxes, install belt drives, install chain drives and follow safety guidelines.

Prerequisites: Basic MMT Occupational Skills Award, MCHN-2005, MCHN-2007

64
$485 / $490
INMT 2003

Pumps, Compressors and Mechanical Drives

This course is a study of the theory and operations of various types of pumps and compressors. Students will identify and explain the function of various components in pumps and compressors, disassemble and reassemble them, and follow safety guidelines.

Prerequisites: Basic MMT Occupational Skills Award, MCHN-2005, MCHN-2007, MCHN-2012

64
$485 / $490
Total Hours
256
Mechanical Maintenance Technician – Advanced Occupational Skills Award
Prerequisite: Mechanical Maintenance Technician – Basic and Intermediate Occupational Skills Awards
Number
Course
Hours
Cost
MCHN 2014

Millwright VI – Reciprocating, Centrifugal Compressors and Blowers

This course is a study of the design, operation and applications of reciprocating and centrifugal compressors and blowers. Students will identify, explain, troubleshoot and repair components of reciprocating, centrifugal compressors and blowers, and follow safety guidelines.

Prerequisite: Basic and Intermediate MMT Occupational Skills Award

64
$485 / $490
MCHN 2016

Millwright VII – Turbines

This is a study of the operational principles of turbines. Students will identify, explain, troubleshoot and repair components of various types of turbine systems, and follow safety guidelines.

Prerequisite: Basic and Intermediate MMT Occupational Skills Award, MCHN-2014

64
$485 / $490
MCHN 2018

Millwright VIII – Alignment and Vibration

This course is a study of equipment alignment techniques and procedures. Students will identify and explain collinear alignment using both the conventional method of alignment and the reverse dial indicator method and laser shaft alignment, and follow safety guidelines.

Prerequisite: Basic and Intermediate MMT Occupational Skills Award, MCHN-2014 and MCHN-2016

64

$485 / $490

Total Hours
192