Employee of the Month
April 2017
Giselle Hewitt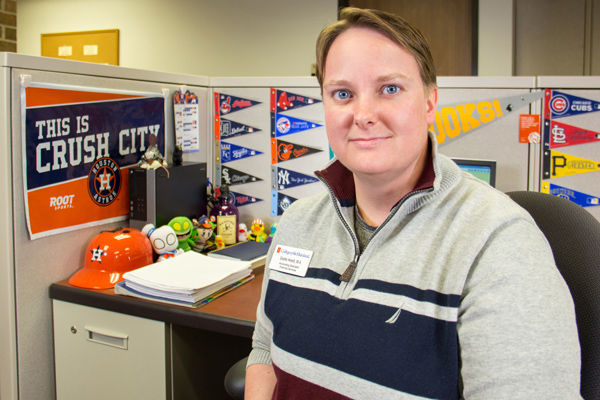 Recommendation:
"Giselle is very detail oriented, which is a valuable asset to have when working with numbers, accounting, money and keeping College of the Mainland's financial integrity in place. Giselle has excelled to promote teamwork and inspire employees and students by holding steadfast to the ideals of a strong work ethic, honesty and integrity.
In addition, Giselle has cultivated a stellar reputation for herself as an adjunct COM English instructor in a short time and has been requested by students to teach other courses in the English curriculum. It does not matter whether Giselle is working with calculating numbers, writing checks, teaching or any other task tossed her way, she addresses each job with the highest level of work ethic and integrity. She has also volunteered many times to work with the Campus Police Dept. to show her support for COM Family Day. Giselle has also taken great pride in going above and beyond what is required to assist her students' concerns on weekends and after hours."
---
Giselle Hewitt has dual roles – balancing accounts and paying bills as an accounting specialist and instilling a love of literature in students as a COM English instructor.
"I get a unique experience where I work with employees and with students. I see both sides," said Giselle.
Giselle began her college education taking night classes as a high school student, transferred to a university, took a three-year break and later earned a bachelor's and master's in humanities.
"A community college encompasses students from all kinds of backgrounds," said Giselle. "I have experience as a young college student and as a student coming back to college and can relate to students."
Teaching English 1301, she guides students in writing their first college essays.
"Some students are ready and some struggle. It's endearing to see them progress," said Giselle.
She also likes incorporating literature from minority and nontraditional perspectives.
"One of the things I try is to foster a love for reading. I think it makes them better writers. Last year I incorporated the 'Vampire Chronicles' and I told my class I would write to author Anne Rice. She sent three autographed books for my class. To know they were holding a book signed by the author sparked their interest," said Giselle.
In addition to working to help her students succeed, Giselle serves in the Financial Services Department.
"I can always depend on Giselle to follow the rules and to point out any possible issues that may need to be addressed. Giselle takes great pride in her job in Financial Services as well as her position as an adjunct instructor. She is an asset to COM in many ways," said Trudy Trochesset, COM controller.
---
Know someone who goes above and beyond? Nominate an outstanding employee at www.com.edu/hr.