Employee of the Month
December 2014
Scott Turnbough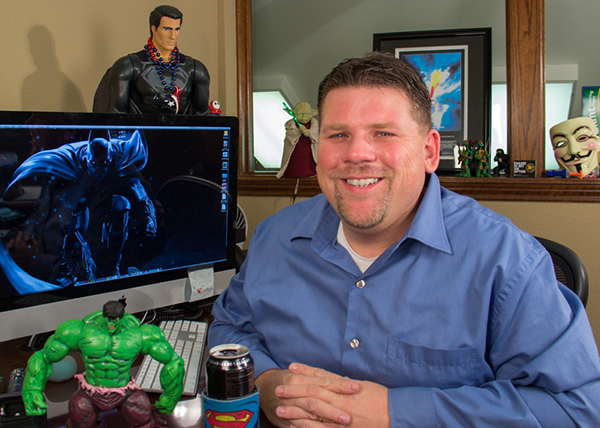 Position: Multimedia Designer, Marketing and Communications
Years of Service: 10
Anyone visiting the College of the Mainland campus has seen Scott Turnbough's work. A creator of COM digital and print publications, videos and photographs, Scott presents information about COM events and resources in eye-catching ways.
A graduate of the COM Graphic Arts Program and later University of Houston-Clear Lake, Scott began his career preparation at the school he now promotes.
"I didn't really care about school before COM," said Scott. "One day in Freda O'Connor's design class, she asked me a question I should have known, and a switch flipped. I went from thinking a C is fine to wanting to know why I lost two points if I got a 98."
"I would encourage anyone to spend two years at a community college and transfer to a university."
Scott now aims to motivate students to pursue an education at the college that sparked his career.
"I enjoy the idea that I may influence someone to improve their lives by returning to school," said Scott.
In a multifaceted role, Scott crafts designs from T-shirts for COM clubs to billboards.
"Scott Turnbough is a highly talented, creative designer who ensures that College of the Mainland brochures, flyers, posters, billboards and ads draw attention and communicate excellence. He is a gifted photographer and is becoming an accomplished videographer," said Vice President for Institutional Advancement Mary Ann Amelang. "The college is so lucky to have someone like Scott helping us tell the COM story."
Scott assists all departments on campus.
"He's got a good sense of humor and a nice eye artistically," said assistant theater director Rob de los Reyes. "He'll do whatever he can to make your project work. He's got suggestions. He's an excellent collaborator."
In a creative field, Scott continually tries new techniques.
"I don't think you can ever stop learning. I always think it can be better and I always want it to be better."