Financial Aid and Veterans Affairs
One of COM's best qualities is our affordability and ability to financially assist our students. Please contact the Financial Aid Office at 409-933-8274 if you need any assistance in applying for financial aid.
Applying for Financial Aid at COM
Priority Application Deadlines
The most successful financial aid applicants submit all applications and documentation well before class registration to ensure they are eligible to receive the most funding.
Financial aid applicants are encouraged to submit all required financial aid documents by the following deadlines:
Fall – June 1
Spring – Nov. 1
Summer – May 1
Applications submitted after these dates will be processed on a first-come, first-served basis and could be processed after payment deadline dates. In this situation, students must make other payment arrangements before the payment deadlines.
Helpful Resources and Information
Tuition and Costs
Veterans Information
Consumer Information
Refund Schedules
HigherOne Card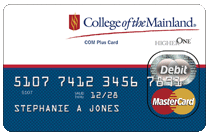 College of the Mainland has partnered with Higher One to deliver your financial aid refund. We are committed to delivering 100% of your refund at no cost, providing students with clear choices and offering great customer service.
The Five-Minute FASFA
View a quick introduction to the FAFSA form, with helpful hints and advice. Find more FAFSA help at http://fafsa.gov/.
Direct Loan Application Deadlines
Summer 2014 – July 1 2014
Fall 2014 – Nov. 3, 2014
Spring 2015 – April 1, 2015
Fall 2014 – Spring 2015 direct loan request form
Satisfactory Academic Progress Appeals Meeting Schedule
The Satisfactory Academic Progress Appeals meetings are scheduled on the second or third Friday of the month. For information about the upcoming monthly meetings, check the Financial Aid Office or the COM website home page.