Emergency Medical Technician-Basic Certificate
Emergency Medical Technician—Basic (EMT)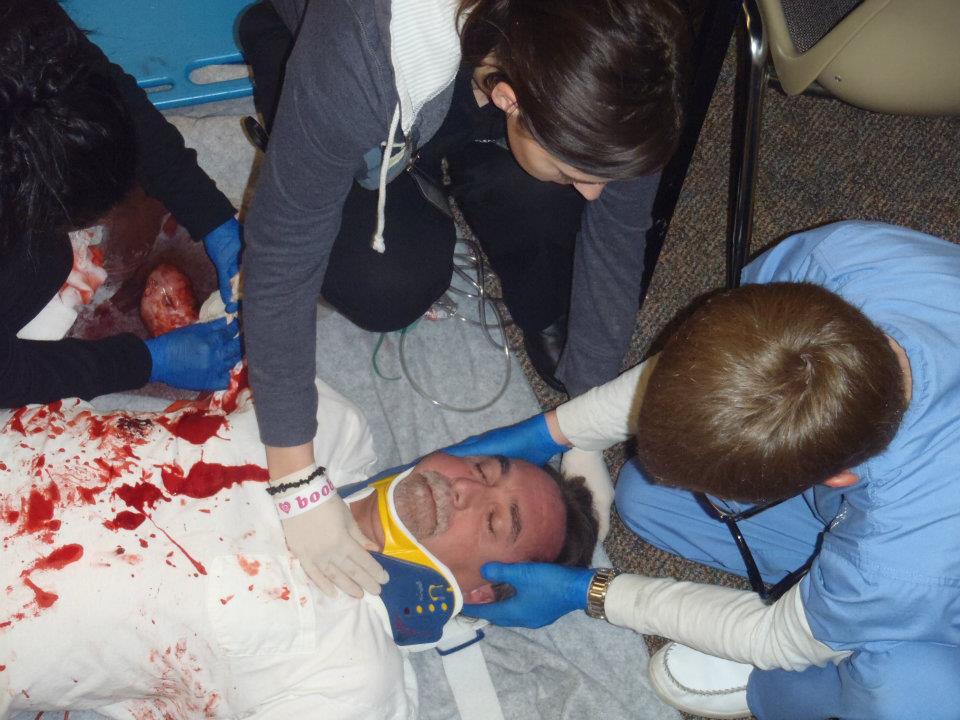 The EMT-Basic Program takes one semester to complete. All deadlines (registration, financial aid, etc) are identical to those found in the COM Academic Calendar. Upon completion, students must take a state certification exam to become eligible to work in the state of Texas.
| Semester | Duration | 2016-17 Start Dates | Days | Time |
| --- | --- | --- | --- | --- |
| Fall—Day Class | 10 weeks | August 22 | M/W/F | 8 a.m.– 5p.m. |
| Fall—Night Class | 16 weeks | August 23 | T/Th and Sat. as noted | 6 p.m.–10 p.m.; Sat. 8 a.m.–5 p.m. |
| Spring—Day Class** | 10 weeks | January 18 | M/W/F | 8 a.m.–5 p.m. |
| Spring—Night Class | 16 weeks | January 17 | T/Th/Sat. as noted | 6 p.m.–10 p.m.; Sat. 8 a.m.–5 p.m. |
| Summer—Day Class | 10 weeks | June 5 | M/W/F | 8 a.m.–5 p.m. |
| Summer—Night Class | 10 weeks | June 5 | M/T/Th/Sat. as noted | 6 p.m.–10 p.m.; Sat. 8 a.m.–5 p.m. |
**Accelerated course, ends in late March
Application and Registration Procedures
Curriculum
The COM Emergency Medical Technician (EMT)-Basic Program prepares students to administer first aid, safely transport patients, and bandage and splint injuries.
EMT-Basic classes are approved by the Texas Department of State Health Services. They consist of 170 contact hours of training based on the NHTSA National EMS Scope of Practice and Education Standards, which includes classroom lectures and activities; hands-on, life-saving skills training; and scenario-based practice.
The hands-on program prepares students to pass the National Registry EMT-Basic Certificate test.
Evening and daytime classes are available each semester. The curriculum is incorporated into the following courses:
EMSP 1501—Emergency Medical Technician—Basic
EMSP 1160—Emergency Medical Technician Clinical
Course Completion
Upon successful completion of required elements, students are authorized to test via the National Registry online system. Also, an initial application must be made to the Texas DSHS.
Current Costs
| Item | Cost |
| --- | --- |
| Tuition and Fees, In District | $465 |
| Tuition and Fees, Out of District | $705 |
| Clinical Fee (covers uniform) | $180 |
| Clinical Liability Insurance | $15 |
| Purchased Books (approx) | $200 |
Textbooks
You may purchase the textbooks anywhere you choose (E books are acceptable).
Emergency Care and Transportation of the Sick and Injured (Book and Workbook), Eleventh Edition

(Jones and Bartlett)
ISBN#9781284106909

BLS for Healthcare Providers

(2015, American Heart Association)
ISBN: 978-1-61669-407-4
Uniforms
The uniform package listed above includes two polo shirts, two cotton T-shirts and two pairs of EMT pants. In addition, students must provide the following:
Black belt
Black work shoes or boots
Financial Aid
In order to receive financial aid, students must complete the FAFSA (Free Application for Federal Student Aid) and the COM Financial Aid Application, regardless of the type of financial aid sought. Veterans should contact the Financial Aid Office directly for additional guidance in Veterans Affairs.
Another possible source of funding is the COM Foundation. It is a nonprofit organization that distributes a wide variety of need and non-need-based scholarships. Look under the category Public Service Careers for those scholarships designated specifically for EMS candidates. The deadline to apply is generally in late July.
Students may also qualify to receive grants from Texas Public Education Grant. (Note: The FAFSA application determines eligibility for these grants.) The College for All Texans website may give additional suggestions such as veteran's and Texas Workforce (see subtitle B here) benefits. As always, contact the experts in the Financial Aid Office at 409-933-8274 for additional information.
---
Still need help?