SQL Server
Occupational Skills Achievement Award – SQL Server Database Fundamentals
Become Certified by Microsoft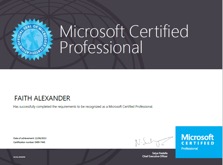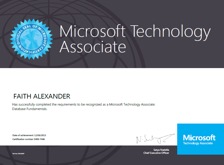 About the Career
Database professionals wear many hats. They can design, implement and maintain centralized databases. They can also update and retrieve data from PCs and from application programs for reports and analysis. They make sure the data is secure and backed up. We take databases for granted, but they have made organizations of all kinds more efficient with accurate, secure and available information.
Microsoft SQL Server is a leading system in industry used by many organizations worldwide. You will find servers in schools, colleges, universities, financial institutions, retail businesses, government institutions, insurance companies, energy companies, healthcare systems, transportation systems, to name a few.
After completing this award, the student may decide that being a database administrator is the way to go. A database administrator with a bachelor's degree will earn a median salary of $84,950 (nationwide), $84,570 (Texas), and $83,080 (Houston area). (U.S. Bureau of Labor Statistics)
About the Program
This Occupational Skills Award takes only nine hours. All three courses lead directly to a Programming Certificate, should the student decide to continue. This award is perfect for students desiring to attain computer database skills, update those skills and to attain an official Microsoft certification.
The Microsoft certification is an integral part of the ITSW 1307 course, Introduction to Database. This course is taught by an instructor with this certification. Students receive practice exams and test vouchers, both free of charge! The COM Testing Center is officially certified to give these exams. Toward the end of the semester, the student will walk across the campus, take the exam, and become a Microsoft Certified Professional, Microsoft Technology Associate in SQL Server. This certification is recognized worldwide.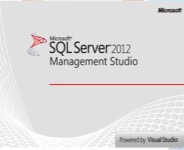 Semester 1
Course
SCH
COSC 1301
Introduction to Computing
3
COSC 1336
Programming Fundamentals I
3
ITSW 1307
Introduction to Database
3