2016-2017 Season
The COM Community Theatre announces the upcoming 2016-2017 season:
For a schedule and description of each production, continue reading or view the 2016-2017 Season Brochure.
"Crimes of the Heart" by Beth Henley
"COM Wasn't Built In A Day" by H. Russ Brown
"Lost In Yonkers" by Neil Simon
"Moon Over Buffalo" by Ken Ludwig
"Red" by John Logan
"Song of Singapore" by Alan Katz, Erik Frandsen, Robert Hipkens, Michael Garin and Paula Lockheart
For a schedule and description of each production, continue reading.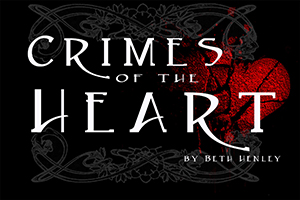 Crimes of the Heart
Sept. 8–25, 2016
by Beth Henley / Winner of 1981 Pulitzer Prize and NY Drama Critics Circle Award!
In this deeply touching Southern Gothic comedy, three young sisters reunite in their Mississippi hometown to await news of their hospitalized grandfather -- and that's just the start of their very strange, very bad day. With emotional troubles in the past and immediate troubles with the law, each of the quirky, dysfunctional Magrath sisters is forced to face the consequences of her crimes of the heart. Imaginative and hilarious, unpredictable and moving, this very funny play about very serious matters is a contemporary classic!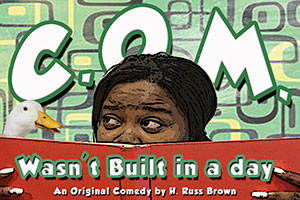 COM Wasn't Built in a Day
Nov. 3–20, 2016
by H. Russ Brown, COM Artistic Director / World Premiere!
A new, original comedy written in honor of College of the Mainland's 50th Anniversary Celebration! Very loosely based on people and events during COM's first semester in the fall of '67 at the old Booker T. Washington High School, COM president Dr. Herbert F. Stallworth already has plenty to contend with in getting his new college off the ground, but an Open House Night with no A/C just before a vital bond election doesn't make it any easier! Throw in a greedy town mayor, a wily chamber of commerce president, a very vocal student senate, a well-meaning custodian and additional pressure from "the powers that be" and you've got a hurricane of commotion! But with his trademark wit and affability, Dr. Stallworth navigates the rocky waters in this funny and affectionate mix of fact and fiction. The rest, as they say, is history!
Lost in Yonkers
Jan. 26 – Feb. 12, 2017
by Neil Simon / Winner of 1991 Pulitzer Prize, four Tony Awards and four Drama Desk Awards!
By America's great comic playwright, this hilarious and heartwarming memory play is set in a Yonkers in 1942. Bella is 35-years-old, mentally challenged and living at home with her mother, the stern Grandma Kurnitz. As the play opens, ne'r-do-well son Eddie deposits his two young sons on the old lady's doorstep. He is financially strapped and taking to the road as a salesman. The boys only have each other as they are left to contend with Grandma, Bella and her secret romance, and her brother Louie, a small-time hoodlum, in a strange new world called Yonkers.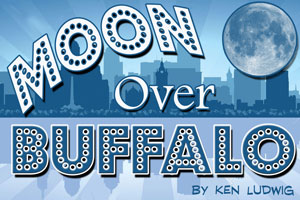 Moon Over Buffalo
March 23 – April 9, 2017
by Ken Ludwig
In the madcap tradition of Hollywood's screwball comedies, the hilarious Moon Over Buffalo centers on George and Charlotte Hay, fading stars of the 1950's. At the moment, they're playing Private Lives and Cyrano De Bergerac in rep in Buffalo, New York with only 5 actors. On the brink of a disastrous split-up caused by George's dalliance with a young ingénue, they receive word that they might just have one last shot at stardom: Frank Capra is coming to town to see their matinee, and if likes what he sees, he might cast them in his movie remake of The Scarlet Pimpernel. Unfortunately for George and Charlotte, everything that could go wrong does go wrong, abetted by a visit from their daughter's clueless fiancé and hilarious uncertainty about which play they're actually performing, caused by Charlotte's deaf old stage-manager mother who hates every bone in George's body.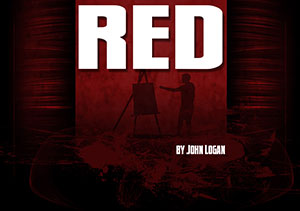 RED
May 18 – June 4, 2017
by John Logan / Winner of six Tony Awards and three Drama Desk Awards!
"What do you see?" Famed abstract expressionist painter Mark Rothko asks his young assistant, Ken, the loaded question. What's art? And who gets to decide anyway? It's 1958, and has just landed the biggest commission in the history of modern art, a series of murals for New York's famed Four Seasons Restaurant. In the two fascinating years that follow, Rothko works feverishly with Ken in his studio on the Bowery. But when Ken gains the confidence to challenge him, Rothko faces the agonizing possibility that his crowning achievement could also become his undoing. Raw and provocative, RED is a searing portrait of an artist's ambition and vulnerability as he tries to create a definitive work for an extraordinary setting.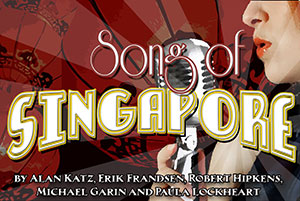 Song of Singapore – The Swing Musical
July 13–30, 2017
by Alan Katz, Erik Frandsen, Robert Hipkens, Michael Garin and Paula Lockheart
With the off-Broadway popularity of this zany recreation of a seedy bar in Singapore, circa 1941, swing jazz music and comedy musical theatre has truly come of age. Audience members are whisked away to those heady days when the band played on while the Japanese invaders approached. The story is a wacky parody of old movies full of intrigue: fishy stolen jewels, a torch singer whose lost memory holds the key to one of the century's greatest mysteries, corrupt police and nonstop funny business. Throughout, the music is a hot parade of 40s parodies and pastiches (Andrews Sisters close-harmony, scat, swing, gospel) with just enough of an original twist to deliver a hilarious comic punch!