2014-2015 Season
The COM Community Theatre announces the upcoming 2014-2015 season:
"Greater Tuna" by Sears, Jaston Williams and Ed Howard
"Arsenic and Old Lace" by Joseph Kesselring
"Always ... Patsy Cline" by Ted Swindley
"The Last Night of Ballyhoo" by Alfred Uhry
"The Drawer Boy" by Michael Healey
"Sweeney Todd" Music & Lyrics by Stephen Sondheim
For a schedule and description of each production, continue reading or view the 2014-2015 Season Brochure.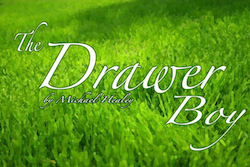 The Drawer Boy
May 21 – June 7, 2015
Tickets go on sale Apr. 28, 2015
by Michael Healey
This brilliant Canadian play features the adventures of a young actor from a Toronto theater group who visits the farm of two older bachelors to research farm life for a new play. Filled with humor, charm and genuine poignancy, "The Drawer Boy" is great storytelling that holds plenty of surprises.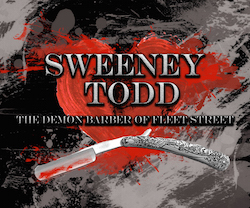 Sweeney Todd
July 16 – Aug. 2, 2015
Tickets go on sale June 9, 2015
Music & Lyrics by Stephen Sondheim
Book by Hugh Wheeler
"Sweeney Todd" has become an international success since being awarded 8 Tonys, one of them for Best Musical, for its Broadway premiere. Stephen Sondheim crafted a stunningly theatrical, thrilling, remarkable treat with "Sweeney Todd" that has simultaneously shocked, awed, and delighted audiences across the world. In this infamous tale based on a true story, Sweeney Todd, an unjustly imprisoned barber, returns to 19th century London seeking vengeance against the lecherous judge who framed him and exploited his young wife. The road to revenge leads Todd to Mrs. Lovett, a resourceful proprietress of a failing pie shop, above which he opens a new barber practice. Mrs. Lovett's luck sharply shifts when Todd's thirst for blood inspires her to add a new dish to her menu..."Sweeney Todd" boasts soaring melodies, vivid characters, dark humor and some truly chilling horror so don't miss COM's first-ever production of this legendary American musical.