Parents
"This was the best decision as parents we could make to send her to Collegiate High School. We have saved $50,000 and she's already been accepted to Texas A&M. I now have the confidence that she is ready for A&M and will do well there." – Coleena Jackson
Parents of Prospective Students
Collegiate High School is an exciting place for responsible, mature teens who are ready for the academic challenge of college-level courses without the time-consuming, daily routines of traditional high school.
Each semester, CHS hosts a Parent Information Session to help parents and students better understand the Collegiate High School educational environment and the application process. View the presentation from the last CHS Parent Information Session.
Information for Parents
Collegiate High School strives to educate and involve parents in CHS activities in several ways.
Monthly meetings present topics designed to help parents assist their students in having successful college experiences. Topics of meetings range from CHS expectations to university transfer and financial aid information. See the PTO meeting schedule below for monthly meeting dates.
Fundraising activities are developed by parents in order to cover the costs of the annual Senior Banquet. All students are invited to this banquet free of charge. The cost of guest tickets depends on the menu and the amount of funding raised. Excess funds have been used in the past to provide scholarships to CHS students. Parents also plan the annual banquet and decorate the banquet hall.
Information Session Presentation
Feb. 9, 2016, at 6:30 p.m. in the Learning Resource Center, L-131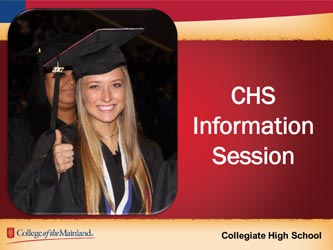 Download the presentation (PPTX). If you have trouble viewing the powerpoint presentation, you can download the the PDF version here.
CHS PTO Meetings
Below is the schedule for the CHS PTO meetings. All meetings begin at 6:30 p.m.
Feb. 21
March 21
April 18