Electrocardiography and Telemetry Monitoring Certificate
About the Career
Listening to the rhythms of one of the body's most vital organs, ECG technicians monitor heartbeats and their patterns. ECG technicians (also called EKG technicians) operate ECG machines while monitoring, interpreting and documenting patients' results. They also maintain and troubleshoot technical problems with ECG machines.
Career Outlook
ECG technicians can find careers in hospitals and clinics and can enhance their marketability by becoming cross-trained in other areas such as phlebotomy or certified nurse assistant. The mean hourly wage for ECG technicians is approximately $15.67.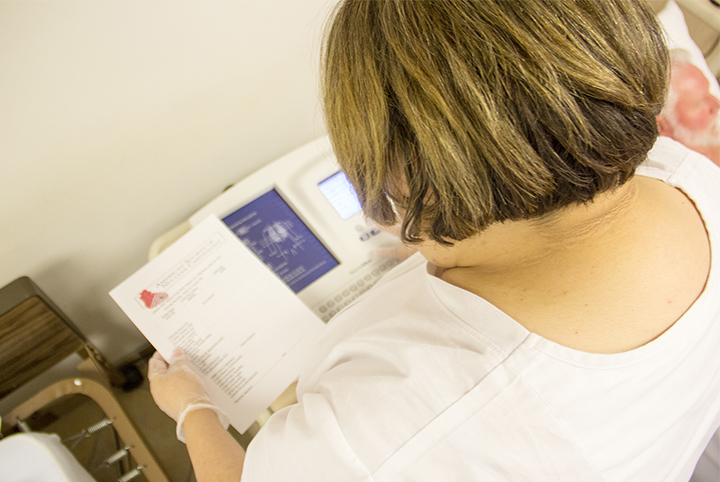 About the Program
The program trains students to become ECG technicians through a combination of classroom and clinical instruction that prepare the student for employment in the health care setting. Students learn about the different medications used for heart dysrhythmias, how they affect the heart and potential side effects. Students learn in labs and classes and gain connections through clinicals at local health care facilities.
Qualities for Success
As an ECG or EKG technician, you must follow precise instructions to operate the machines and provide quality test results for diagnosis. This requires attention to detail, hand-eye coordination, interpersonal and technical skills, and physical stamina.
How to Begin
An application is required prior to registration: Electrocardiography and Telemetry Monitoring Student Requirements
Applicants need a high school diploma or GED. Consider contacting the ABE office if you do not meet the diploma requirement at 409-933-8294.
Clinical sites require participants to have updated immunizations, background checks, drug screens and verified ID. This cost is paid by the program applicant.
Financial aid is available for students who qualify.
Course completion requirements
You will be required to attend 90 percent of all scheduled classes, all clinical hours as assigned and maintain an 80 percent or better or coursework. Once completed, students may take the National Healthcareers Association exam to earn the certified EKG technician title.
| Course # | Title | Hrs |
| --- | --- | --- |
| ECRD 1011 | Electrocardiography And Telemetry Monitoring | 63 |
| CVTT 1060 | Clinical Cardiovascular Technology | 48 |