50 Plus Program
Engage, express, explore
50 Plus Program Mission:
The College of the Mainland Lifelong Learning Program's mission is to provide learning opportunities for adult students 50 years of age and older by offering personal enrichment classes in a positive, accepting and intergenerational environment. The Lifelong Learning Program staff collaborates with academic departments and the community to develop programs that meet existing and emerging educational needs for this population.
Who Qualifies for This Program?
Any person 50 years of age or better.
Message From the Director
Welcome to the College of the Mainland Lifelong Learning 50 Plus Program. We hope you heard the exciting news that we lowered the age of our program to welcome anyone age 50 or older. Please continue to help us spread the word about educational oppor­tunities at COM. I am also available to share about our program with local groups that you are involved with.
We hope you will join us this fall for classes, lectures and educational travel adventures. Inside these pages you will discover ways to express your creative side, learn new skills, connect with others, keep pace with technology and explore a world of opportunity. COM prides itself on having instructors who are passionate about their subjects and innova­tive in their teaching.
Mark Your Calendar for these important dates
Aug. 3 – Fall 2015 registration begins (You will be able to register at the COM Learning Center-Delmar from Aug. 3 – Sept. 4, or you may call 409-933-8226.)
Sept. 7 – COM closed for Labor Day
Sept. 9 – Fall classes begin
Nov. 26 - 27 – COM closed for Thanksgiving Holidays
Dec. 7 – Spring 2016 registration begins
Dec. 11 – Annual 50 Plus Program Community Christmas Luncheon, 11:30 a.m., Main Campus Gym
Dec. 19 - Jan. 3 – COM closed for Winter Break
NEW THIS FALL – Book and Movie Community Reading Club (BAM)
Please join us for our fall Book and Movie Community Reading Club hosted by Ami Blackwell of SpinDrift Media and Entertainment. The fall book is Silver Linings Playbook, Matthew Quick's debut novel made into an award-winning movie starring Bradley Cooper, Jennifer Lawrence (who won the Oscar and Golden Globe for Best Actress), Robert De Niro, Jacki Weaver, Chris Tucker, Anupam Kher and Julia Stiles. We encourage participants to read it and join us to watch the movie and discuss the plot, key themes and differences between the book and movie. For more information and to register, see page 42 of the Fall 2015 schedule, under the Lectures section.
Have you attended our lectures and workshops?
Lectures this fall include AARP driver safety, genealogy lectures, Portion Distortion in a Super-Sized World – Nutrition, the Alzheimer Caregiver's Workshop, Dealing with COPD and Respiratory Issues, Veteran's Benefits, Savvy Social Security Planning and several Extended Travel Presenta­tions. For more information, click on the 50 Plus Lecture and Travel Schedule.
You asked. We listened.
Have you participated in any of our educational travel adventures?
Have you participated in any of our educational travel adventures? This is a great way to meet others and stay involved in your community. Trips fill quickly, so register soon. Local trips are exclusively for senior adults ages 50 or older, but extended travel trips are available to all ages. We will host two extended travel presentations this semester: the first Sept. 9, 2015, and the second Nov. 11, 2015, both at 3:30 p.m. at the COM Learning Center-Delmar, 1130 Delmar in La Marque. These presenta­tions will preview the upcoming trips Southern California Queen Mary Getaway (Spring 2016) and Cape Cod and the Islands, featuring Boston, Martha's Vineyard, Nantucket and Newport Beach (Summer 2016). You do not need to wait until the presentation to place your deposit. Call 409-933-8912 to register or for more information.
Facebook
We also invite you to find us on Facebook: College of the Mainland 50 Plus Program, www.facebook.com/com50plus, for current information, event announcements and photos.
Email Distribution List
If you would like to receive event announcements, registration remind­ers and updates, please call Maegan Guzman at 409-933-8226 or email mguzman6@com.edu.
As our program expands, I challenge you to try a new class, something that has piqued your curiosity in the past or something you have always wanted to try. You might surprise yourself and make some new friends while you're at it!
We strive to offer fun, exciting and relevant courses. If you have a sug­gestion for other new courses, please call 409-933-8226.
Alesha Vardeman Aulds
aaulds@com.edu or 409-933-8432
www.com.edu/50plus
---
Fall 2015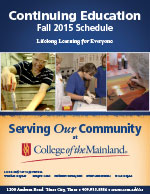 Download the Fall 2015 Schedule
Schedule Updates
Summer 2015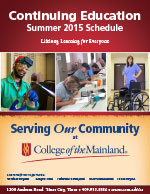 Download the Summer 2015 CE Schedule
Schedule Updates
For step-by-step instructions on how to register using WebAdvisor, please click here.
Adobe Reader is free software for viewing and printing Adobe Portable Document Format (PDF) files. If you do not have it installed, please get Adobe Reader.
Registration for 50 Plus Program (Formerly Senior Adult Program)
Registration for the Fall 2015 semester will be Monday, August 3 through Friday, September 4. Preferred methods of registration are in person at the COM Learning Center-Delmar Computer Lab where staff are available to assist you or by calling 409-933-8226.
Please note that if you plan to pay by cash, check or money order, you must register at the Enrollment Center on the main campus.
NOTE: If you are registering for the first time, you will need to register in person and show proof of age. A photo ID will be required to show proof of age, i.e., a valid driver's license, government issued ID Card, or passport.
For additional methods of registration, please see page 3 of this schedule.
Waiting Lists
Want to attend a class or trip that is full? Contact the Office of Lifelong Learning at 409-933-8226 (classes and lectures) or 409-933-8912 (trips) to place your name on a waiting list.